FACIAL TREATMENTS & PEELINGS
What problems can be solved?
–  Acne treatments
– Pigment treatment – Redness – Skin aging – Dry/Oily skin – Relaxation – Boost your skin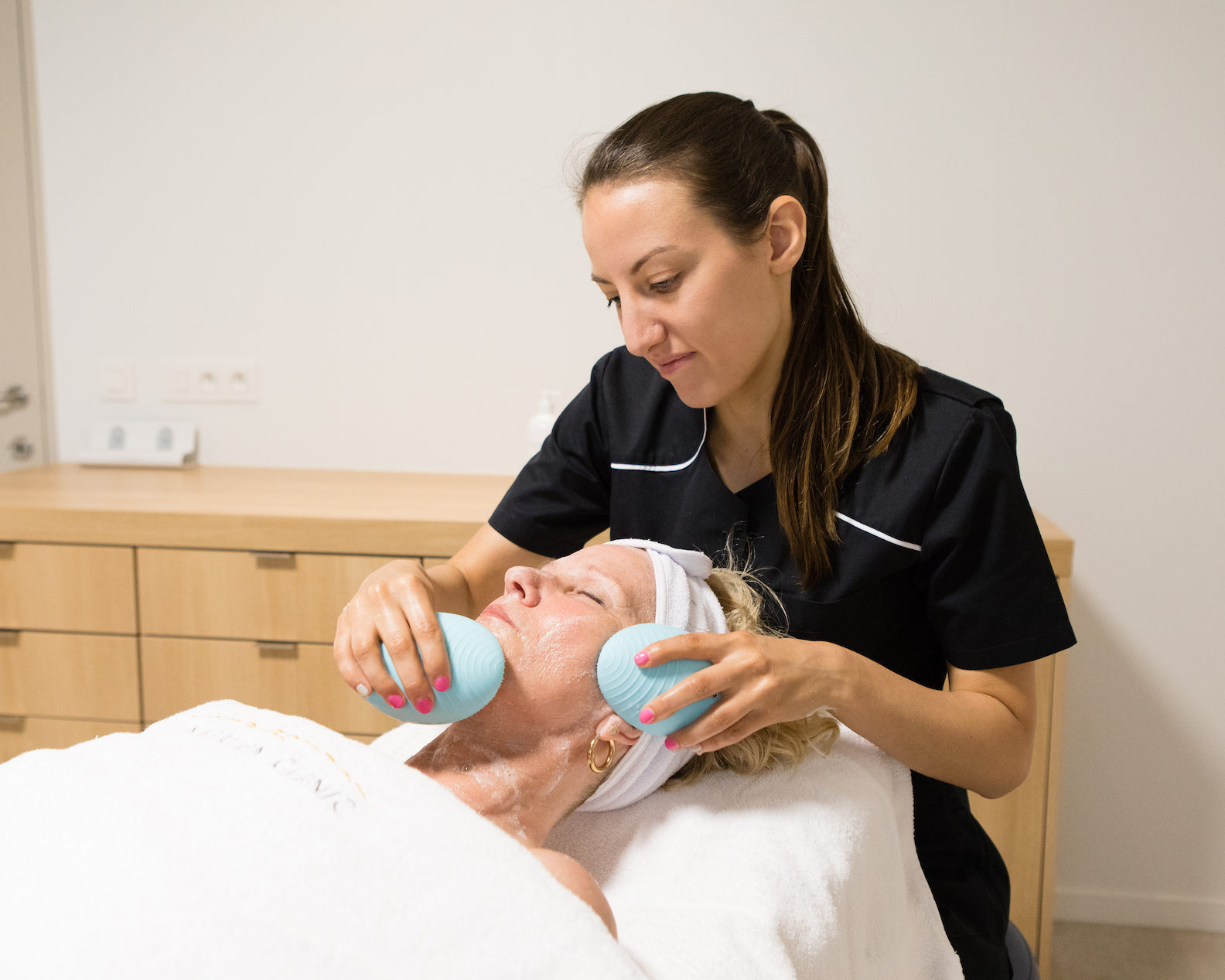 List of facial treatments at our

 

MediSpa:
You can book a facial treatment, or make an appointment to see which treatment is best for you.
ENVIRON DISCOVERY + SKINANALYSIS (+/- 90 MIN) 
For everyone starting with new products.
A one-off treatment with skin analysis, personal advice for at home and what to do at the institute. 1. Intake interview 2. Photo + skin analysis 3. Pre-clean 4. Micro-exfoliating mask 5. Cleaning with Foreo 6. Tonify 7. Vitamin massage 8. Moisturizing care + UV protection 9. Jane Iredale make-up & advice 10. treatment plan for your skin  
ENVIRON CLEANSING + BIOPTRONLAMP (+/- 30 MIN)
For acne-treatment. 
Without removing black spots including lamp. 1. Removing eye make-up 2. Pre-clean 3. Micro-exfoliating mask 4. Cleaning 5. Biotron lamp 6. Tonify 7. Vitamin care + UV protection
SENSITIVE (+/- 60 MIN) 
Gives extra comfort to a sensitive skin.  A relaxing care for sensitive skin that soothes and calms. The hydrolipid film is restored.
1. Pre-cleansing 2. Micro-exfoliating mask 3. Cleaning with Foreo 4. Tonify 5. Soothing massage 6. Soothing alarm mask or clay mask 7. Pressure point massage of face and scalp 8. Moisturizing care and UV protection 9. Personal advice
VITAL (+/- 60 MIN) 
Relaxing treatment with a radiant and fresh effect as a result.   A relaxing facial treatment that helps restore cellular functions. Your skin relaxes, becomes soft, youthful and radiant.
DEEP CLEANSING  (+/- 60 MIN) 
Deep cleansing for those who suffer from clogged, open pores. Black spots are removed.   A deep-cleaning treatment in which the comedones and impurities are removed. Scientifically advanced products gently exfoliate, moisturize and refresh the skin. The skin looks pure and radiant.
DEEP CLEANSING youth  -18 (+/- 60 MIN) 
Deep cleansing for those who suffer from clogged, open pores. Black spots are removed.   A deep-cleaning treatment especially for -18 year olds. This treatment removes comedones and impurities. The scientifically advanced products gently exfoliate, moisturise and refresh the skin. The skin looks pure and radiant.
LUXURUOUS (+/- 90 MIN) 
Face-lift effect after 1 treatment for all skin-types.   An efficient cell renewal treatment that narrows pores and lightens pigment with a spectacular anti-aging effect. Acid-based.
List of our 

DF Facial Treatments:
COLLAGEN BOOST (+/- 120 min) 
Luxury treatment for those who want the very best. 
This is our luxury facial treatment, the all-inn treatment. In this ultimate facial treatment the df probe spends time on every zone and every skin condition. The DF treatment increases the absorption of the active ingredients with immediate visible results.
INTENSIVE (+/- 90 min) 
Luxury vitamine boost for the entire face.  This is a facial treatment to take care of the whole face with our DF probe, and treat any skin condition. The active ingredients penetrate deeply with immediate visible results. You can also enjoy a relaxing facial massage and a revitalizing mask.
ESSENTIAL +/- 60 min) 
To improve specific skin conditions.  
This is a facial treatment in case you want to work intensively on improving the entire face, but do not want to waste time on a relaxing massage and mask.
FOCUS (+/- 60 min) 
For extra focus on the problem areas.  This targeted facial treatment focuses on 2 problem areas with the DF probe. Afterwards, an absorptive mask ensures a result on the entire face.
SKIN RENEWAL (+/- 75 min) 
For pimples and clogged, sun-damaged skin.  With this treatment, extra attention is given to exfoliating and moisturizing the skin, for a radiantly renewed skin as a result. Ideal for dull, clogged skin, pimples, scars and sun-damaged skin. The combination of exfoliation and vitamins renews and refreshes the skin.
LUNCH  (+/- 30 min) 
Repeated treatments for specific problem areas.  
A short but intensive treatment in which we focus on 1 specific skin problem in 1 specific area.
COOL PEEL PROGRAM  6 TREATMENTS DURING 6 WEEKS (+/- 60 min) 
Ideal against wrinkles and sagging skin. 
A deep peeling that gives you a new healthy, smooth and even skin. This lowers the skin's own ph with a low concentration of lactic acid. The peeling works slower but stays on the skin for a longer period of time, allowing the keratinocytes to release various growth factors, without killing skin cells. It is a safe peeling system! This exfoliating treatment destroys bacteria, improves hydration and removes the accumulation of dead skin cells, making the skin purer and its texture smoother. It is ideal for lines and wrinkles, sagging, thick and rough skin with open pores, sun-damaged skin and pigmentation spots.
LUNCH PROGRAM 12 TREATMENTS DURING 6 WEEKS (+/- 30 min) 
For a specific result on pigment, wrinkles, eyecontour or scars.  With this treatmentprogram you will come 12 times during 6 weeks, for a short treatment on 1 specific zone. Some examples are : fine lines around the eye contour, frown lines on the forehead, tighter jaw contour, pigment spot.
TCA ph FORMULA PROGRAM 2 TREATMENTS WITH A 4 WEEK INTERVAL (+/- 30 min) 
Spectacular peeling program for a face-lift effect without surgery. After 4 weeks you will see a permanent result. This is a controlled chemical peel based on 30% TCA. It gives a lifting effect and is for all skin types. Ideal for anti-ageing of facial neck and décolletage, skin prone to acne, scarring and pigmentation disorders.
Our peelings: 
In order to assess which treatment will be necessary for you, it is important to first have a skin analysis carried out by us. Based on this, we will draw up a personal treatment plan. For this we use the Reveal Imager: a device that clarifies how your skin is doing.
TCA PEELING
One of the types of peelings we perform in the MediSpa Knokke is the TCA peeling. This is a chemical peeling with TCA acid (trichloroacetic acid). The active ingredient is applied to the skin to rejuvenate and improve the skin. This stronger chemical peeling is suitable for a more pronounced, aged and wrinkled skin. The treatment can also help to relieve scars.
PEELING WITH PH FORMULA
We also use skin improvement peels by means of pHformula. This brand has been developing products based on a unique combination of cosmetic and pharmaceutical innovations for over 35 years. A treatment with pHformula is suitable for both fast results in complex skin problems as well as for long-term maintenance and rejuvenation of the skin. This is more than just a peeling: it is sensational to experience a peeling and the insertion of active ingredients by means of oxygen in one. A peeling with pHformula is therefore extremely suitable for: – The prevention of skin aging, intensive wrinkle reduction and tightening of the skin; – the acne, inflammation and sebum content of the skin; – the spectacular reduction of skin discoloration; – the prevention of chronic and diffuse redness, rosacea and rosacea. The advantage of a peeling with pHformula is also that you can go back to work the next day, because the skin does not need a long recovery time.
COOL PEEL PROGRAM
Another peeling we offer in MediSpa is the cool peel cure. This is a completely different approach to peeling that achieves incredible results without damaging the skin. By means of a low concentration of lactic acid, the pH of the skin is lowered and the release of growth factors is stimulated. The result? Tighter and smoother skin. Ideal for lines and wrinkles, thick or rough skin, problem skin, skin damaged by the sun or rosacea.
Make an appointment today!
We can be reached every day, from Monday to Saturday morning by phone. We also guarantee a quick response to your e-mails and messages.
CONTACT US