COOLSCULPTING AT MEDISPA KNOKKE
Do you want to tackle the fat in your body in specific places?
Then the technique of coolsculpting might be a good solution for you. With coolsculpting fat cells are removed by means of selective cooling. You can resume your daily activities immediately after the treatment.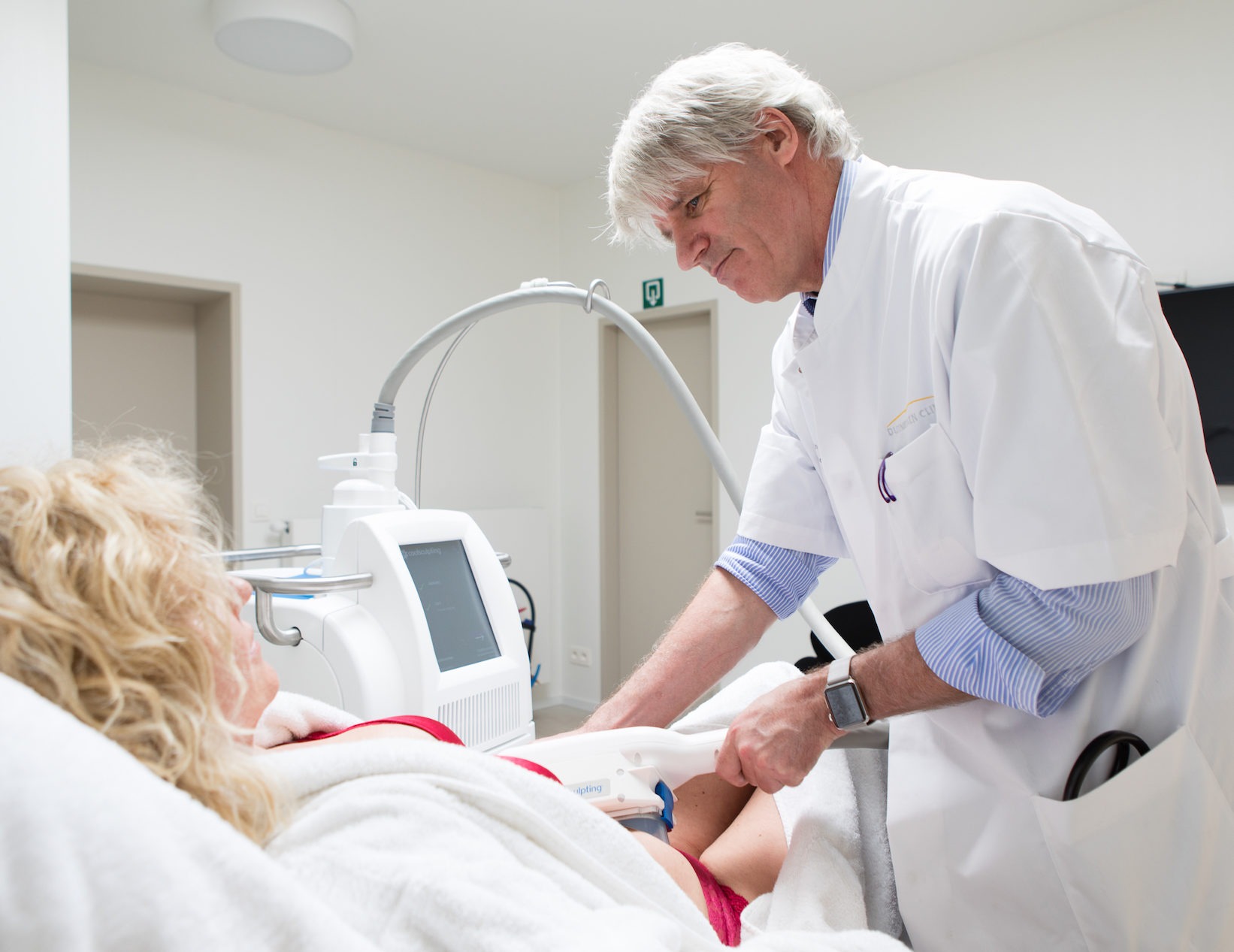 Frequently asked questions about Coolsculpting:
HOW DOE IT WORK?
In cool sculpting we use a revolutionary technique called cryolipolysis. With this technique fat cells are permanently removed by precisely controlled cooling. The treatment is fast and virtually painless. There are no injections, operations or anaesthetics involved and the recovery period is extremely short. Because of the gentle treatment, the tissue around the fat cells is not damaged. With cool sculpting we make fat rolls disappear in specific places, such as the abdomen, legs and waist. A special device (the applicator) clamps the fat roll between two cooling plates that cool the skin down to four degrees Celsius. You will then briefly feel an intense cold.
HOW LONG DOES A TREATMENT TAKE?
The treatment will take about 1 to 2 hours and in the meantime you can just read a book or work on your laptop.
WHAT RESULT CAN I EXPECT?
After the treatment, the natural process of the fat cell-death begins. They are gradually drained by the body, naturally through the liver and kidneys. The best result of the coolsculpting treatment is visible after about two to four months. After just one treatment, our clients already notice a size loss of 1 or 2 centimetres. As the fat cells gradually leave the body, the skin can adapt to the slimmer contours without sagging.
HOW MANY TREATMENTS DO I NEED TO DO?
To get the best results with cool sculpting, we usually choose three treatments. Of course this also depends on your personal wishes and the thickness of your fat roll. After about two to four months, you and the plastic surgeon will examine the result and decide whether you want to have more fat zones removed. The surgeon will draw up a treatment plan in advance in order to achieve the best possible result. By undergoing several treatments in a short period of time you will achieve the desired result faster. Please note: cryolipolysis is not intended to treat obesity or to lose a lot of weight at once.
IT'S SAFE AND SOUND?
Of course it is important that the treatment produces results, but you also want to be sure that cool sculpting is safe and responsible. The FDA (the American Food & Drug Approval) has exclusively approved our coolsculpting device and the associated method. Independent clinical research has shown that the treatment does what is promised: the removal of fat cells without surgery, injections or a long recovery period.
WHY IS MEDISPA KNOKKE THE BEST CHOICE?
Please contact us for an initial consultation if you are planning a cool sculpting treatment. You will then visit our carefully equipped clinic where safety and professionalism are paramount. Together with the doctor you will discuss your wishes and explore the possibilities. You can rest assured that you are in safe hands with us. We work with highly advanced equipment and have been awarded the highest accreditation on a global level. In addition to cool sculpting, we do a lot more in the field of cosmetic surgery. Smaller operations are usually performed in our private clinic. In case of a heavier operation, we move to the nearby Zeno hospital in Knokke. Please contact us and make an appointment so that we can discuss the possibilities for you.
Make an appointment today!
You can be reached by telephone every day from Monday to Saturday morning. We also guarantee a quick response to your e-mails and messages.
CONTACT US