YOUR SKIN MAPPED
What problems can be solved? 
– Personal treatment plan
– Product advice
– Acne treatments – Pigmenttreatment – Redness – Skinaging – Dry / greasy skin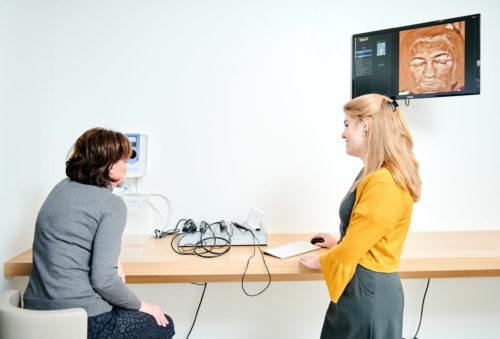 Why is a skin analysis so important? 
Medispa Knokke guarantees a professional approach from A to Z to guarantee you the best care and the best results.
DETAILED PHOTO'S
Because the device takes both standard and crosspolarized photographs, the skin condition is determined both on and under the skin surface.
A CUSTOMIZED PLAN
Based on the results of the skin analysis, we draw up a personal treatment plan. In this way we match your wishes and the possibilities within our MediSpa.
This is how it works 
Special software ensures that the current status of your skin is displayed. The skin scan then calculates the number and size of pores, measures the depth of wrinkles, the evenness of the skin and any sun damage. The image can be enlarged up to 50 times so that the structure and skin lines are clearly visible. This way you know exactly what the condition of your skin is. The analysis enables us to tell you exactly which treatments or products your skin needs.
Make an appointment today!
Every day from Monday to Saturday morning we can be reached by phone. We also guarantee a quick response to your e-mails and messages.
CONTACT US